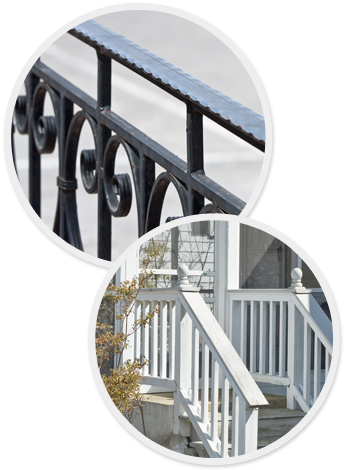 All about High-Quality Railings
Even if most people commonly use railings for porches and decks, they can also be useful for driveways, walkways, or any other area with a sudden change in elevation. Railings are primarily designed to prevent accidents that could cause injuries. But because they are customizable, they also enhance the beauty of any structure or landscape. We have four types of railing you can choose from:

Vinyl - Of the three varieties we have, this is one of the most popular. A perfect alternative to wood railings, vinyl railings need little maintenance. It comes in different styles and designs and must be custom-installed for each project.

Aluminum - Attractive, corrosion-resistant, and maintenance-free, this type can complement any architectural or landscape design. Being lightweight and durable, it can easily be installed and provides adequate protection.

Steel - Of the three varieties, this type is commonly used for commercial purposes. Durable and low maintenance, it fits any application and helps protect users from accidents. Like vinyl, it has to be custom-installed by our reliable crew.

Wood - This type is popularly used to add aesthetic appeal to decks and porches. Aside from adding a stylish appearance to outdoor spaces, wood railings provide safety for family and visitors alike.